Bread Making
Wednesdays and Fridays, 10.00 am - 12.45 pm
see Calendar for dates (click on 'Agenda' top left hand corner).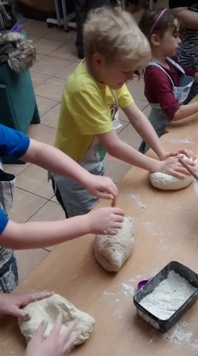 Nothing quite beats the smell and taste of handmade bread! Our community bread making sessions are open to people of all ages and abilities who would like to share together in learning a new skill and taking home some tasty bread. We encourage participants to share some with neighbours, family, friends or the foodbank. We swap ideas and tips and taste each other's bread. There's plenty of time in the process to chat and to make new friends.
Bread making at Wesley is held every Wednesday and Friday morning except for some holiday closures (check the Calendar here). You need to arrive between 10.00 and 10.30am and bring a cloth bag or carrier bag to take your bread home in. We supply all the basic ingredients. The session lasts until about 1pm. We invite you to make a donation of between £3 and £5 to help cover our costs.
There's no need to book but for groups of more than 3 people, please contact us before coming. We may be able to run special sessions for larger groups depending on the timing.
For more information see the downloadable leaflet.
Booking form for our Breadmaking sessions.
Web links: Take a look at:
http://www.walkmillflour.co.uk/
http://www.somewhere-else.org.uk/church.htm
If you would like us to keep in touch with you about what's on for children and families at Wesley please complete this online form.