Worship Area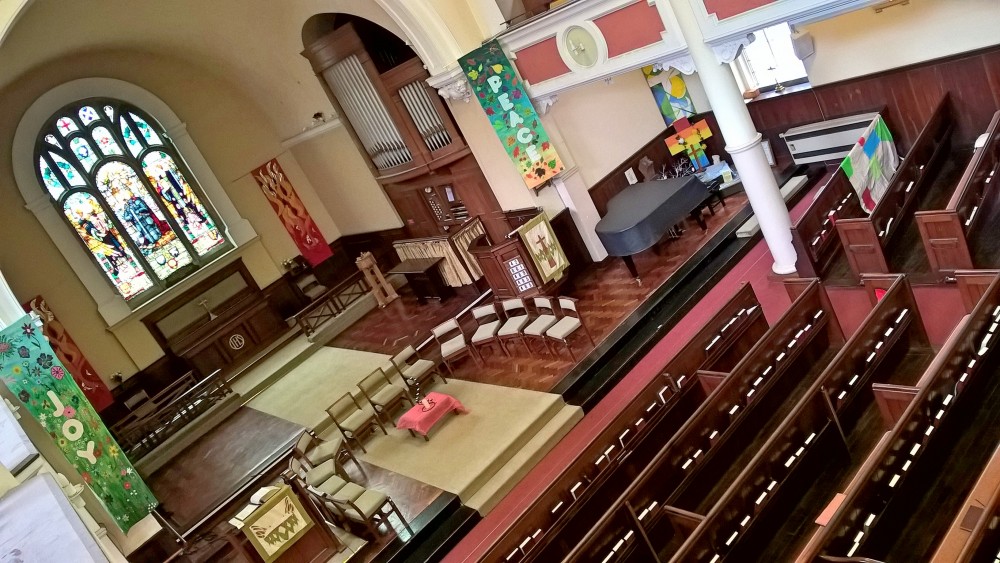 Worship area (currently undergoing refurbishments - not available for hire)
The main worship area or chapel dates back to 1811 and was built by a Wesleyan Methodist Congregation wanting a more central location in the city. It was extended and refurbished in the early C20th. For more historical information please click on the History Leaflet link below.
The worship area is normally available during coffee bar opening hours (Mon-Sat 10am-4pm) for quiet reflection and prayer in the middle of a busy city centre. We sometimes provide art or music to help you slow down and relax. The image shows "Windsails", an art installation by Wendy Rudd, hanging in the Breathing Space.
Pre-refurbishments, this area accommodated upto 250 people. The rates for hiring this room will be revised after the construction work has been completed approximately end of June 2017.
One-off bookings
at least 10x/year
at least 20x/year
at least 30x/year
to be reviewed
to be reviewed
to be reviewed
to be reviewed
Worship Area & Downstairs
to be reviewed
to be reviewed
to be reviewed
to be reviewed
Other information about booking Wesley premises can be found on the following documents: